What government websites tell you about the places they represent
I've long been fascinated by the way in which countries and other jurisdictions market themselves to the outside world, and how certain governments seem to put more effort in putting their best foot out first to the world. As a graduate student at Tokyo University of Foreign Studies a number of years back I took part in several international culture festivals in which I helped man the 'Canada booth', which gave me a glimpse into how certain governments (through their embassies) put forth more of an effort than others in helping their student ambassadors put on a good show.
In one instance, I was seated next to a Kenyan colleague who had been given what seemed to be half a museum full of beautiful posters and artwork, wood crafts, musical instruments, Maasai beadwork and other assorted treasures. (It also helped that he brought homemade Mombasa-style beef samosas, which were amazing!) By contrast, our embassy gave us a pathetic box full of maple leaf pins and cheesy posters of Banff National Park and whatnot. Even a box of Timbits and a Bryan Adams album would have been better. Totally disheartening!
When I asked my Kenyan friend about the glut of schwag he had received from his embassy, he explained that the staff at the Kenyan embassy in Tokyo was largely new following the end of Joseph arap Moi's long authoritarian rule in Kenya and that the new staff were a fired up, ambitious bunch who were keen to make a good impression. And when I asked him what he thought of my embassy's contribution to our pathetic little booth, his response was something like "Canada already has a great reputation in the world. I guess they feel they don't have to try."
This exchange stuck with me long after my time as an overseas scholar and into my current studies of public relations at Grant MacEwan University. Recently, though, I've become very much interested in another aspect of countries' PR armamentarium, namely their websites. Government websites essentially serve two basic purposes - to help deliver information to their own citizens both within the country and abroad and to serve as cyber-embassies to the world. Like embassy collateral marketing, a great national web presences makes a great impression. A crappy one does the opposite.

O hai. I can has usability.
How does Canada measure up in terms of web design? In typical form, it's a pretty middle-of-the-road affair. Usability-wise, the Government of Canada's
official website
is pretty intuitive and user-friendly. However, there's certainly no sex appeal to it. (See my November 3 post entitled 'Gross National Sexy', which addresses this issue.) There's no real flavour or style to it, anything you could really call distinctively 'Canadian'. As for the Government of Alberta's
official web portal
, the site works fine but its incessant adulation of the oil sands starts to get pretty tiresome.
So who are the winners and losers in the global contest for usability and cyber-élan supremacy? From what I've seen, the worst offenders in the web butchery department generally fall into two categories: the very poorest places on earth and the very richest. When it comes to the most disadvantaged and dysfunctional places on earth, it's hard to be critical - after all states that can't feed their people can't rightfully be expected to invest in expensive web design. But there are some for whom there is absolutely no excuse for bad design, and the only reasonable explanation is an pervading sense that they don't need it.
On the flipside, the best government websites seem to come from middle-income countries eager to bolster their reputations (much like Kenya) or countries otherwise sensitive to their international image.
Here are five of the very worst:
1.
Zimbabwe
Simply awful, and not helped by the fact that the landing page features a particularly Hitlerian headshot of President Robert Mugabe. Retina-scarring flickering, nausea-inducing colours and a mid-1990s-style banner that moves so fast you can barely read it. The news section appears to be little more than the president's to-do list, including ominous references to 'land reform'. At least there's a 'Feedback Form' which seems to work, although who knows who is in charge of receiving said feedback. Possibly Mugabe himself.
2.
Afghanistan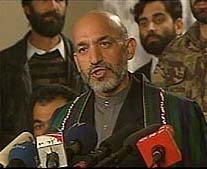 The Taliban may have been removed for power for almost a decade now, but you wouldn't know it from Afghanistan's government website. The harrassed photo of President Karzai with a faceless man in military fatigues standing behind him is not exactly inspiring. The site appears to not have been updated since 2004 with the exception of the 'Afghanistan News' portal, which has the appearance of an entirely different website. (It isn't.) Lastly, what is particularly eyebrow-raising about this site appears to be only available in English. No Dari, Pashtun or Tajik. Remind me again whose government this is.
You would think a languid island paradise like Tonga would be able to come up with something better than this nightmare of clashing fonts and colours, cataract-inducing banner displays and dizzying array of indecipherable menus. Definitely the work of a committee, possibly involving the entire population of Tonga. There is some decent photography and design bits here, but the ensemble is so chaotic and so jarring that you can barely tell. With different fonts and an overhauled colour scheme this might actually be a decent website - it's hard to tell - but the designers' total fixation on the national red-and-white colour scheme coupled with the clashing features makes it a total eyesore.
4.
Russia
Not the worst offender of all, but a country with this much wealth and clout ought to do better. A bland, dull affair that looks like a relic of the Soviet era (with a particularly nefarious looking Vladimir Putin peering over the banner with a Montgomery Burns-type expression on his face), this site looks like the website equivalent of a regional Russian airline. And yes, it crashes with the same regularity. Add to this the fact that the landing page is basically Putin's filofax and you have a less than inspiring online presence for the government of the Russian Federation.
Really??? Is this the best the terrestrial stand-in for Middle Earth can do? Not an image in sight on the landing page. Nothing whatsoever to rest your eyes on. Just rows and rows of text and links. Extremely disappointing. Mind you, their official tourism website (
http://www.newzealand.com/
) is much better, but there's no excuse for a web portal this unattractive from a well-to-do beauty queen of a country like this.
And five of the best:
1.
Brazil
Ahhhh.....Brasil! The country's official government website is truly a work of arts, a website whose underlying message is "We're still the sexy country we've always been but now we're also getting our sh*t together - developing the economy, reducing poverty
and
protecting the environment!" Beautiful colours, embedded videos, photo albums and a rotational banner trumpetting the best of the country's scientists, artists, athletes and other beautiful people. A cyber-stroll down Copacabana Beach.
2.
Taiwan
It's hardly surprising that a high-tech nation with a perpetual sense of national identity crisis like this one would want to put its best cyber-foot out first. And they succeed with flying colours. With the visual richness of a National Geographic feature and immaculate design, the site makes the island quasi-nation look like the most alluring place on earth. Note the inclusion of images of Aboriginal Taiwanese on the landing page - a feature very much in keeping with recent Taiwanese government attempts to address this community's longstanding marginalization.
3.
Costa Rica
Another Latin American standout, this 'presidential' portal of the government of Costa Rica is a delightfully interactive social media-oriented site that seamlessly blends serious policy papers with Flickr components and embedded videos of Costa Rican school children and town hall meetings discussing rainforest preservation and ecotourism. The only detraction to this site is that it appears to only be available in Spanish, but the design is so intuitive that it is navigable even with the most basic udnerstanding of the language. Current President Laura Chinchilla is said to be a social media maven - and it shows.
4.
Poland
While much of the former Eastern Bloc remains mired in drab Soviet-style design, Poland's official web portal is an absolute masterpiece. The Polish Ministry of Foreign Affairs website, entitled 'Do You Know Polska?' (
http://www.doyouknowpolska.com/
), was voted Website of the Year in the 2011 Webstar Festival, and indeed the rest of the government's web network is similarly inspired. From tributes to Polish films to slideshows on traditional glass baubles, every page is a visual feast, and the fact that it's available in nine languages (including Arabic and Mandarin) is quite impressive.
5.
Botswana
Zimbabwe and Botswana may be geographic neighbours, but when it comes to web design the two countries couldn't be further apart. While not at all flashy, the Government of Botswana's official web portal is aesthetically pleasing, immaculately organized and easy to navigate. There's no social media optimization here, but when it comes to what a website is above all supposed to do - deliver information as directly and clearly as possible - this site could scarcely be better. And the country's official tourism site (
http://www.botswanatourism.co.bw/
) is beautiful!