Hottie meets hottie at Government House in Bangkok in November 2012 (Source: www.gawker.com)
Happy New Year! Just about every blogger out there has at least one new year's resolution. Mine is to have more fun here on Brush Talk and to write more 'fun' posts. Yes, there are still a myriad 'serious' issues pertaining to writing and communications that I intend to dig into in the coming months, but when it comes down to it I get the best responses from posts that are lightweight, funny, irreverent and fun to read. December's
'How To Drive Like An Edmontonian'
was easily my most popular post of all time. And here I was expecting a barrage of angry rebuttals from Edmonton motorists convinced that they and their fellow citizens
don't
drive like complete lunatics. How wrong I was!
In keeping with the spirit of fun, my first post of 2013 is dedicated to all the world leaders out there who have raised the bar for politicos everywhere in the sex appeal department. Back in November 2011 I wrote a post entitled
'Gross National Sexy'
in which I outlined ten ways in which Canada could boost its international sex appeal. One of the steps I suggested was simply "Do something about Stephen Harper," in which I insinuated that our current prime minister, while he has his admirable qualities, is sadly among the last world leaders any of us would like to see sprawled out on a tiger rug in our living room with champagne and strawberries at the ready and an Isaac Hayes album throbbing away on the stereo. Sorry.
It's not that Stephen Harper is a physically unattractive man. Sex appeal is more than this. The late Québec premier René Lévesque was hardly an Adonis, but he had more sex appeal in his perpetually cigarette-clutching middle and index fingers than Harpo has in his entire body. By contrast, recent US presidential contestant Mitt Romney, while a superficially decent looking man, makes Harper look like a suave Casanova. Sometimes politicos get sexier in their autumn years, as Hillary Clinton's smoky foreign policy-cured mezzo voice and
new-found party girl persona
clearly show. Other leaders lose their sex appeal over time. Vladimir Putin's Slavic Chuck Norris schtick has grown ever more tiresome as his Stalinist tendencies have become harder to overlook. Similarly, Binyamin Netanyahu's once appealing Zionist boy scout image has taken a hit by his new-found friendship with Israel's far-right.
Sex appeal is like good writing: it's undefinable and subjective, but you know it when you see it. So who are the dreamiest among today's world leaders? Here are my top ten candidates, in no particular order.
1) Jigme Khesar Namgyel Wangchuck
During his 34-year reign as King of Bhutan, Jigme Singye Wangchuck oversaw the transition of his remote Himalayan kingdom from a medieval backwater to a fast developing South Asian economy with an increasingly democratic political culture. In 2006 he abdicated in favour of his then 26-year-old son, Jigme Khesar Namgyel Wangchuck, the fifth and current Dragon King (Druk Gyalpo) of Bhutan. The young king has continued in his father's footsteps, strengthening the country's democratic institutions, promoting public works projects and forging tighter trade relations with neighbouring India. And with his teen idol looks and charming demeanour, the 'People's King' has been a PR godsend to the Bhutanese people, with
his 2011 marriage
to his radiant commoner bride Jetsun Pema breaking hearts from Bangkok to Tokyo.
Between 2008 and 2010, Thailand was rocked by political and social upheval driven by a West Side Story-like rift between rival Red Shirt and Yellow Shirt factions, which threatened to roll back the country's previously impressive economic gains. Then in 2011, the Thai people elected Yingluck Shinawatra, the younger sister of controversial exiled former PM Thaksin Shinawatra, unseating the dashing but ineffectual Abhisit Vejjajiva and ushering in a new era of uneasy reconciliation and renewed economic growth. While Yingluck's first two years at the helm of Thai politics have hardly been faultless, the US-educated former telecommunications executive has thus far proven an adept economic steward and a canny reconciliator in spite of her divisive family ties. And at the very least the Reds and Yellows can agree that their current prime minister, with her Catherine Zeta-Jones-meets-Michelle Yeoh looks, is easy on the eyes.
Prior to the horrific shooting spree on Utøya Island in Norway in July 2011 and the concurrent bomb blast in Oslo, few people outside Scandinavia had heard of Jens Stoltenberg. The Norwegian Prime Minister's tearful address to the nation following the massacre and his inspiring exhaltation to his people to respond with 'more openness' and 'more democracy' put his chiselled profile and charismatic demeanour firmly in the public eye and solidified his country's international reputation as a place that, while disgustingly successful, is definitely too nice to inspire hatred. It certainly helps when you have a leader like Stoltenberg, a former left-wing radical turned pragmatic socialist father figure with dreamy eyes and Nordic Hugh Jackman looks. It's hard to hate a country with a leader this handsome!
4) Helle Thorning-Schmidt
In the same year that Jens Stoltenberg rose to public prominence with his plea to his fellow countrymen not to abandon their social democratic principles, another left-leaning Scandinavian hottie made waves of her own. Elected in October 2011, Danish Prime Minister Helle Thorning-Schmidt got straight to work reversing the conservative course set by her neoliberal predecessor Anders Fogh Rasmussen, relaxing restrictions on immigrants and asylum seekers and increasing welfare funding while pledging to increase Denmark's level of renewable energy to 45 percent of the nation's total by 2025. The former Danish representative to the European Parliament has also positioned herself as a staunch supporter of European integration and stronger economic ties with now-autonomous Greenland. One could do far worse than this feisty blonde Marcia Cross lookalike at the helm.
While the jury is still out on Mexico's newly elected president, it can at least be said that Enrique Peña Nieto has the option of becoming a
telenovela
star should his political career bite the dust. Inaugurated in 2012, the boyishly handsome leader of the centre-left PRI played an instrumental role in reviving the fortunes of Mexico's longstanding 'government party' and ridding it of its reputation as being corrupt, authoritarian and out of touch. Peña Nieto has made big promises to the Mexican people, which include government-sponsored life insurance for single mothers, a universal pension program for seniors over 70 and the creation of a national paramilitary police force aimed at combatting the country's vicious drug cartels. How well he does at fulfilling any of these promises remains to be seen, but at the very least he'll look
guapo
trying.
There's something about those Aussie chicks - an intoxicating combination of convict-blooded sunburnt sex appeal and zero bullshit tolerance forged over centuries of putting up with their insufferably macho male counterparts. And after two years of a 'Sheila' in power in Canberra, Julia Gillard's fellow Aussie womenfolk have had much to celebrate. After usurping former ally Kevin Rudd in a palace coup, she has since galvanized her reputation as a man-slayer by publicly upbraiding her opponents for sexism and injecting a heavy dose of
feminismo
into Australia's frat-boy parliamentary culture. Her record has been uneven, receiving criticism from LGBT groups criticizing her for her unresponsiveness on same-sex marriage while being applauded by environmentalists for her Green Energy Bill. Love her or hate her, the flaming redhead with the acid tongue has certainly kept life interesting Down Under.
7) Goodluck Jonathan
When Goodluck Jonathan was sworn in as President of Nigeria following the death of his predecessor Umaru Yar'Adua in early 2010, his given name sounded more foreboding than fortuitous. He was after all taking the helm of one of the world's most chaotic countries - an oil-rich but strife-torn poster child for the term 'resource curse'. Three years later he's still there, having won a contentious but internationally recognized election in 2011, and with the national economy growing at a steady clip he looks like he might be around a while. What does it take to be the successful leader of a hard-boiled West African petrostate with difficult ethno-religious relations and endemic corruption? This mild-mannered former marine biologist does it with a winsome smile, a seductive Niger Delta accent and a wardrobe reminiscent of Miles Davis circa 1979. In this land of '419' scammers and Afrobeat bad boys, being able to rock the fedora is definitely a plus!
In 2009, a confusing sequence of events in Madagascar saw Andry Rajoelina, a babyfaced former DJ, event organizer, mayor of the capital city of Antananarivo and Ralph Macchio impersonator, oust the unpopular conservative president Marc Ravalomanana
with a crane kick to the head
in a coup d'état, thus becoming the world's youngest president the age of 34. At the outset few in the international community took him seriously, and his early move to ratify the country's constitution so as to lower the minimum age for presidential candidates from 40 to 35 did little to inspire international confidence. Nevertheless, the teen heartthrob president enjoys widespread support, particularly among the urban poor in the capital city who helped vault him to power, and the past few years have seen the international community warm up to him. Still, one can only assume he still gets asked for ID at NYC nightspots when he visits the UN.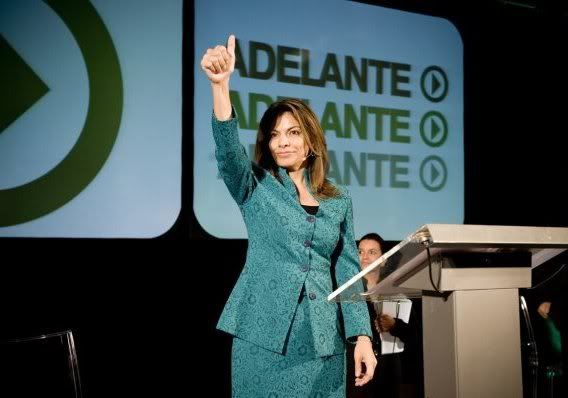 With its stunning beaches, lush rainforests, pacifistic tree-hugging people and sensuous lilting dialect, Costa Rica was already one of the world's sexiest countries when it elected the glamourous Laura Chinchilla as its first female president in 2010. Blessed with a style that's half Condi Rice, half Eva Longoria, the socially conservative but fiercely environmentalist Chinchilla has had a rough ride since becoming president, facing a crisis on the Nicaraguan border and drafting an unpopular fiscal reform plan that aims to reduce the country's $997 million deficit while faced with growing economic disparity and rising crime. Environmentalists love her for her government's moratorium on oil exploration and emphasis on ecotourism while social progressives and many women hate her staunch opposition to abortion and the Morning After Pill. But all agree she looks great as head of state.
Sigh. America's current commander-in-chief has received brickbats from conservatives on a multitude of fronts since assuming the presidency in 2008, but nobody has ever faulted him for lack of sex appeal. He's even managed (as far as is known) to be a poster boy for marital fidelity, something which the sexy presidents of yesteryear have had some difficulty with. It's little wonder that a commanding 55 percent of American women voted for Obama in the 2012 election, with unmarried women backing the president by a remarkable
38 percentage-point margin
over Mitt Romney. Granted, the fact that the GOP's leading Neanderthals could barely last a week without making some boneheaded remark about rape and women's anatomy was an important factor in this outcome. But the contest between the Tin Man from the Wizard of Oz and the sinewy, hoop-shootin', honey-and-Bourbon-voiced hunk with the beautiful family was, in the end, no contest. Sexy won. Hands down.